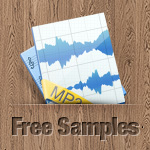 I usually find myself using a lot of samples nowadays to enhance my productions - I find that it adds more life to them. In this post I will list my top 3 favorite websites where anyone can download free audio files.
ccMixter
ccMixter is a community music site featuring remixes licensed under Creative Commons where you can listen to, sample, mash-up, or interact with music in whatever way you want.
If you're into sampling, remixing and mash-ups grab the sample packs and a cappellas for download and you can upload your version back into ccMixter, for others to enjoy and re-sample. All legal.
Audio Archive
Audio Archive contains over 270,000 free digital recordings ranging from alternative news programming, to Grateful Dead concerts, to Old Time Radio shows, to book and poetry readings, to original music uploaded by our users. Many of these files are available for free download.
Freesound
Freesound is a collaborative database of Creative Commons Licensed sounds where you can browse, download and share all the audio files.
Looperman
Definitely can't forget Looperman. Looperman is a Free pro audio community for musicians, film and video producers, djs and multi media designers.
As a member you can upload and download royalty free music loops, acapellas and vocals, beats and samples to use in any music software.
Vocal Samples
Vocal Samples has a few samples from some commercial songs (East Clubbers, etc). Some of you might find these useful.
ACAPELLAS4U
Acapellas4u has a lot of files for download, but the site is so annoying with all the ads and popups, that I try to avoid it at all costs.
Do you know of any other places? Please let me know in the comments below and I will update this post with a link.
SampleSwap
SampleSwap is a pretty cool members-only resource with A LOT of interesting samples. Registration if free!
Black Octopus Sound
Besides their several premium samplepacks, Black Octopus Sound offers some free samples of anything ranging from vocals to one-shots.
Comments