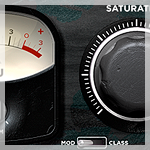 This VST simulates some dynamic effects as can be obtained with some high quality tape gear which can create very slight, but overall, excellent effects that breathe more life into your productions.

Inspired by the smooth dynamic shaping capabilities of some high-end reel-to-reel tape recorders, this plug-in simulates three of the most distinctive and much appreciated sonic effects generated by these devices:
DYNAMICS – gently shaping the overall dynamic response
SATURATION – adding extra harmonic-related content
LIMITING – controlling peak performance
Functions at a glance:
performs gentle audio dynamic treatments
masters difficult to handle audio material
adds extra harmonics and saturation effects
controls outgoing audio peaks
Plug-in specification:
Win32 / VST compatible
state-of-the-art digital signal processing
4x oversampled core algorithms
performance-critical parts are written in assembler
completely SSE-optimized
For more information, please refer to the manual.
Example:
Developer Information:
This plugin was developed for a "KVR Developer Challenge 2009". More info can be found at the Variety Of Sound.
Tips & tricks
works great on VA synths to add some slight crunch and presence
use it in the chain for electric guitar: Subtle compression (Density II) > Fender style ampsim > FerricTDS {Dynamics high, Saturation low, SC high, rest to taste} > optional FX with slightly different settings it works for crunch amps, too. suddenly ampsims come alive and "feel real" – what a breakthrough! (Tip by susiwong)
Comments